News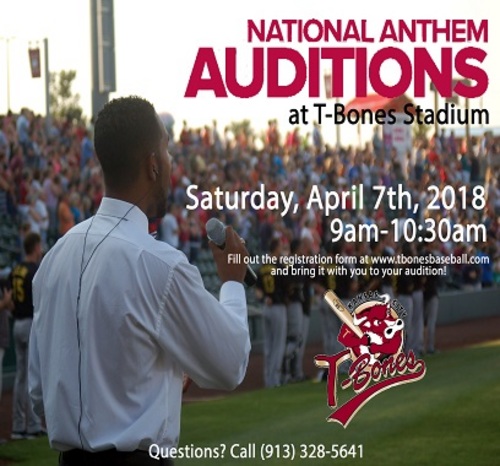 02/12/2018 8:50 AM
-
National Anthem Tryout Date
When: Saturday, April 7th, 2018
Time: 9am-10:30am
Where: T-Bones Stadium….Home of the Kansas City T-Bones!
Bands, choirs, groups, musicians, and individual performers are invited to audition to sing the National Anthem and God Bless America during the 2018 season. Performers that can perform the Canadian Anthem are a plus!
Before the audition, interested performers must complete the registration form provided and indicate which they will be choosing to perform. Performers are allowed to audition for all songs, but it must be specified on the form.
All auditions will be performed live at T-Bones Stadium on Saturday, April 7th starting at 9am. Auditions for Anthems must be 120 seconds or less, in the traditional version of the song(s) and will be performed a cappella (no additional background music will be used). Auditions for God Bless America must be 75 seconds or less in the traditional version of the song. Audition orders will be on a first-come, first-serve basis and performers will be given an audition number. The auditions will be open to the public and performers must also be aware that no compensation will occur. All that are interested will enter through Gate A.
Performers can fill out the registration form before arriving at the ballpark or they can complete the form on site on the audition date. Please wear respectable and appropriate attire and be prepared for the weather as the auditions will be taking place outdoors.
Any additional questions: contact the Director of Promotions & Game Entertainment, Morgan Kolenda at [email protected] or call 913.328.5641.l