News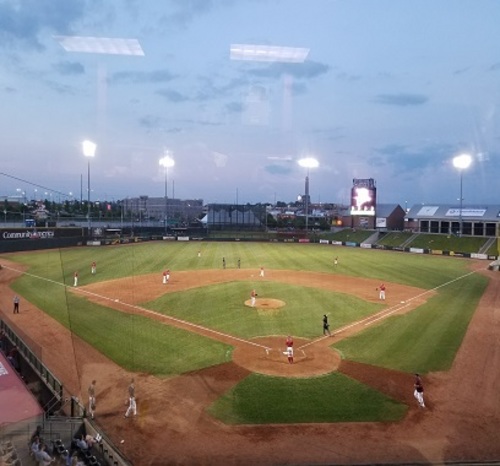 03/14/2018 3:20 PM
-
KANSAS CITY, Kan. – The Kansas City T-Bones have announced the 2018 High School Baseball Series schedule at T-Bones Stadium.
This is the second year in a row that the T-Bones will be hosting individual baseball games with seven games on tap for the spring. The club will host again this year the Bonner Springs Butch Foster Memorial Baseball Tournament to close out the series. More than 20 teams will participate in the T-Bones High School Series throughout the spring at T-Bones Stadium.
"This is a tremendous opportunity for area high school student-athletes to play baseball on a professional field with first class amenities, and it is a great way to top off their season and showcase their talents," said T-Bones Vice-President and General Manager Chris Browne. "We're thrilled to welcome these teams and their fans, many of whom are from outside our metro area, to the T-Bones and our ballpark. Kansas City, Kansas is a tremendous destination spot, and this is a nice addition to our event schedule in 2018."
Here are the scheduled matchups throughout the spring:
March 17 at 11:00 am — Cameron vs. Lawson
March 24 at 11:00 am — Lafayette vs. Sherwood
April 6th 4:30pm — Santa Fe vs. Carrollton
April 7th 11:0 am — Shawnee Heights vs Washburn
April 9th 4:00 pm — Piper vs Silverlake
April 20th 4:00 pm — Knob Noster vs Lexington
April 23rd 4:00 pm — Oak Park vs North KC
April 26-29th — Bonner Springs Butch Foster Memorial Baseball Tournament
Browne added that it's possible other teams may take part this season.
"We're still working on a few more game dates and are looking to add to our spring schedule," he said.
To schedule your team at T-Bones Stadium this spring or summer, please contact Kacy Muller at 913-328-5618 or [email protected] or call 913-328-5618.
Single game tickets, full and half-season ticket packages for 2018, flex plans and group ticket sales are now on sale online or by calling (913) 328-5618 or visiting in person the T-Bones Stadium Box Office. For additional information or interview requests, members of the media may contact the T-Bones Media Relations Department at (817) 739-3693. Stay tuned to www.tbonesbaseball.comand the T-Bones' Facebook and Twitter pages for updates throughout the offseason
-- T-Bones –