News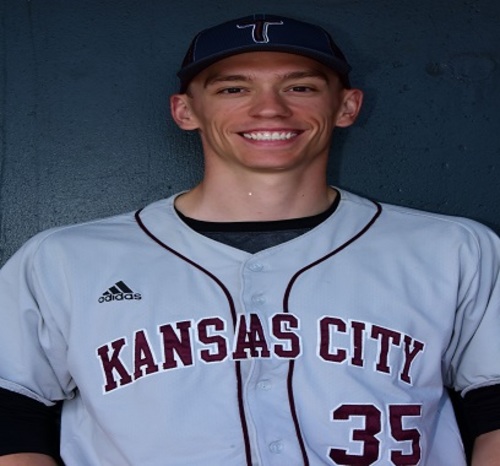 03/20/2018 4:20 PM
-
KANSAS CITY, Kan.– The Kansas City T-Bones announced today that the club has signed right-handed closer Cody Winiarski for the 2018 season.
Cody Winiarski returns to the T-Bones where he was named the Reliever of the Year in the American Association in 2017. Winiarski earned Post Season All-Star honors by saving 21 games in 23 opportunities with a 5-1 record, striking out 66 in 52.1 innings with a 1.89 ERA for Kansas City. His 21 saves were the second most in the single season in T-Bones club history, just missing Kris Regas mark of 22 set in 2014.
Winiarski would walk just eight batters in 2017 with an 8:1 strike out to walk ratio. His 47 appearances were the second most games for a pitcher in T-Bones franchise history. Winiarski was also part of a record-setting staff for Kansas City. The T-Bones set the American Association single-season strike out mark as a staff at 897. On August 9th in Fargo, in the bottom of the ninth, Winiarski struck out the side to break the franchise mark single-season team strike out mark.
Winiarski, a former Chicago White Sox prospect, originally joined the T-Bones on January 13, 2017. The right-hander was selected in the 36th round by the Chicago White Sox in the 2011 draft out of the University of Virginia. A native of Wisconsin, he was drafted out of Union Grove High School by the Philadelphia Phillies in the 36th round but did not sign in 2007. As a Junior at the University of Virginia, he would post a 4.68 ERA, working 75 innings, with a 5-0 record in 17 games with 14 starts. Winiarski then went 6-4 in 77 innings as a senior with a 2.92 ERA in 13 starts, appearing 19 games total. Over his four-year college career, he struck out 200 in 267 innings.
With the White Sox system, Winiarski reached AA Birmingham in 2015, and over parts of five seasons he would post a 4-7 record with a 4.00 ERA in 157.2 innings with 197 strike outs. His 2015 season was cut short in June because of an arm injury, and he did not return to the White Sox until late 2016. After Tommy John surgery in July of 2015, he returned for one game in 2016 with the rookie level White Sox of the AZL.
Season, group, mini-plans and nightly party suites are on sale now and can be purchased by visiting the Box Office at T-Bones Stadium, calling 913-328-5618. Purchase and print tickets online at www.tbonesbaseball.com. Box office hours are 10:00 am to 4:00 pm Monday – Friday and 10:00 am to 2:00 pm Saturday. For additional information or interview requests, members of the media may contact the T-Bones Media Relations Department at (817) 739-3693. Stay tuned to www.tbonesbaseball.com and the T-Bones' Facebook and Twitter pages for updates throughout the offseason. Home opening night is May 22 when the T-Bones host Gary SouthShore at T-Bones Stadium at 7:05 pm.