News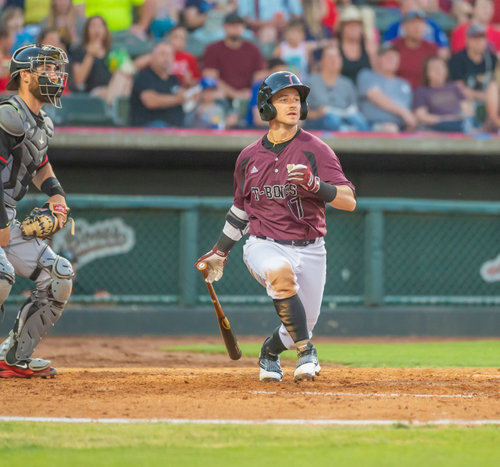 06/02/2018 10:33 PM
-
KANSAS CITY, Kan. – The Kansas City T-Bones and the Wichita Wingnuts combined for 12 hits in a gritty low-scoring affair Saturday night in Kansas City in front of 5,329 fans. An extra-inning two-run homerun by Ryne Willard spoiled a dominant pitching performance by Scott Carroll and the T-Bones bullpen. Kansas City fell to Wichita, 3-1.
In the third inning, a Leo Vargas walk, a Logan Watkins fielder's choice and a Ryne Willard double to left field put Wingnuts runners on second and third. Abel Nieves then hit into a 4-3 fielder's choice, scoring Watkins and giving Wichita a 1-0 lead.
In the bottom of the third, the T-Bones responded with a walk by Angel Rosa and a ground out by Johnny Davis that allowed Dylan Tice to hit an RBI single that tied the game at 1-1.
The T-Bones and Wingnuts bullpens both displayed stretches of excellence. Through three innings, each gave up zero runs. The T-Bones bullpen didn't allow a hit until the 10th inning when Willard crushed a two-run homerun.
The T-Bones had plenty of opportunities to win the game but couldn't manufacture hits in crucial moments. Kansas City loaded the bases in the 9th with only one out, but Angel Rosa and Johnny Davis both struck out, ending the T-Bones chances of a walk-off win at home.
Brady Bowen (1-0) secured the win for Wichita, pitching a scoreless 9th inning, allowing two hits, and zero earned runs.
Francisco Gracesqui (1-1) is charged with the loss for Kansas City. He gave up the go-ahead two-run homerun in the 10th. He pitched two innings, allowing one hit and two earned runs. The T-Bones will try to prevent a sweep of the series with Wichita Sunday, June 3, at 1:05 p.m. at T-Bones Stadium.
Season, group, mini-plans and nightly party suites are on sale now and can be purchased by visiting the Box Office at T-Bones Stadium. Call the Box Office at 913-328-5618 or purchase and print at www.tbonesbaseball.com. Box office hours are 10:00 am to 4:00 pm Monday – Friday and10:00 am to 2:00 pm Saturday. For additional information or interview requests, members of the media may contact the T-Bones Media Relations Department at (817) 739-3693. Stay tuned to www.tbonesbaseball.com. and the T-Bones Facebook and Twitter pages for updates throughout the season.
LISTEN TO ALL T-BONES GAME LIVE ON THE T-BONES BROADCAST NETWORK
--T-Bones--