News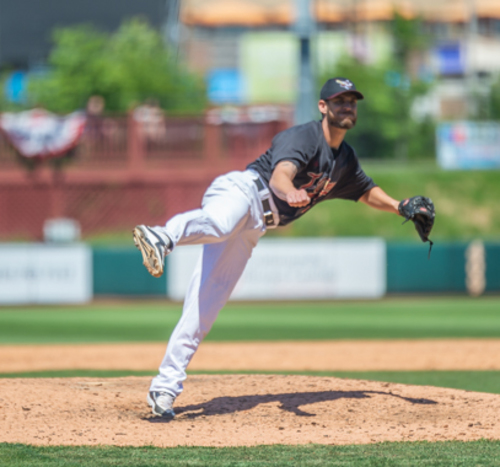 06/03/2018 9:59 PM
-
KANSAS CITY, Kan.– The Kansas City T-Bones pounded out a season high 17 hits in their 13-2 win over the Wichita Wingnuts on Sunday at T-Bones Stadium. The T-Bones bats were off to a quick start as they scored 5 runs in the bottom of the first inning and never looked back.
After singles from both Dylan Tice and Nick Torres, Zach Walters hit an RBI single to right field to drive in Tice. A wild pitch would then score Torres followed by a missed play at first to bring in Walters. But the inning didn't stop there. Todd Cunningham and Dexter Kjerstad scored off RBI singles from both Adrien Nieto and Tucker Pennell to close out the inning.
The Wingnuts responded quickly in the top of the second with a two run home run from Zach Nehrir to put Wichita on the board. In the bottom of the inning, the T-Bones had three players walked to fill up the bases. Torres scored off of an RBI fielder's choice from Dexter Kjerstad.
Kansas City had another hot streak in the fourth inning. Following 3 more walks, Pennell singled to left scoring Walters to put the score at 7-2. With bases loaded once again, Angel Rosa was walked, which brought in Cunningham to score. Johnny Davis then singled to third base, driving in Kjerstad and heading into the fifth with a 9-2 lead.
The T-Bones kept things going in the 7th inning after Pennell hit an RBI single to left field scoring Torres. Kansas City scored two more runs in the 8th with the help of a sacrifice fly to center field driving in Tice and a single from Adrian Nieto to score Torres once again.
Lucas Irvine (1-0) got his first win of the season tossing 6 innings giving up only 2 runs off of 4 hits. Jordan Cooper (2-1) is credited with the loss after pitching only one inning and giving up 5 runs off of 6 hits.
The T-Bones will have a day off on Monday before they head down to Texas to play the Airhogs. The next T-Bones homestand will start of on Monday June 11th against the Sioux City Explorers.
Season, group, mini-plans and nightly party suites are on sale now and can be purchased by visiting the Box Office at T-Bones Stadium. Call the Box Office at 913-328-5618 or purchase and print at www.tbonesbaseball.com. Box office hours are 10:00 am to 4:00 pm Monday – Friday and 10:00 am to 2:00 pm Saturday. For additional information or interview requests, members of the media may contact the T-Bones Media Relations Department at (817) 739-3693. Stay tuned to www.tbonesbaseball.com. and the T-Bones Facebook and Twitter pages for updates throughout the season.