News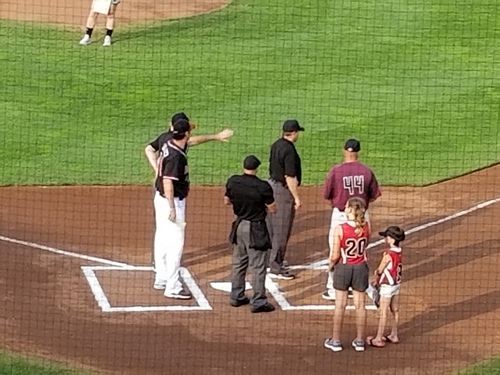 06/16/2018 8:05 AM
-
FARGO, N.D. – The T-Bones must love the scorching Kansas heat, because they bottled it up and took it with them to Fargo, North Dakota where they came out on fire beating the Fargo-Moorhead RedHawks 6-4 Friday night at Newman Outdoor Field.
A hot first inning helped the T-Bones leave the RedHawks in the dust. Dylan Tice got things started out the gate with a single to left field off RedHawks starter Benji Waite. Nick Torres joined the fun too and got on base with a hit by pitch. Zach Walters got the T-Bones on the board with an RBI single sending Tice home. Cal Towey batted next with a single to left field sending Torres home for the second run of the night.
Adrian Nieto's RBI brought Walters home, but an error at third base allowed Towey to fly around third base and race home too giving the T-Bones a 4-0 lead. Brennan Metzger came out swinging for Fargo in the bottom of the first, hitting a homerun to cut the T-Bone lead 4-1 off Lucas Irvine.
In the top of the second, Keith Curcio singled to center field and was advanced by the next batter, Dylan Tice. Curcio then came home on an RBI single by Todd Cunningham, adding to Kansas City's lead and making the score 5-1.
The T-Bones would go on to score another run in the fourth inning. Kansas City's Adrian Nieto dropped a single out into right center field and hustled to second base after a wild throw. The next batter up, Dexter Kjerstad singled to left center and advanced Nieto home putting the T-Bones on top 6-1.
The RedHawks made things interesting in the bottom of the fourth with three quick runs. First-basemen Nick Torres tossed the ball to Lucas Irvine covering first base on a ground ball to the right side of the infield, but the ball slipped out of Irvine's glove allowing Keury De La Cruz to reach first base on an error by Irvine. Leobaldo Pina singled and was followed by Tommy Mendonca's RBI single sending Cruz home, cutting the T-Bone lead 6-2. Tim Colwell hit a single that sent Pina home and Yhoxian Medina hit a sac-fly to center field sending Mendonca home and cutting the T-Bone lead 6-4.
The two clubs then locked into a pitchers dual with Reese Gregory tossing 5.2 scoreless innings for Fargo-Moorhead and Irvine able to get the T-Bones into the seventh with a two run lead. Irvine (2-0) was the winning pitcher for Kansas City, throwing seven innings, giving up eight hits and four runs (three earned) in a quality start.
The T-Bones then turned to lefties Francisco Gracesqui and Carlos Diaz. Gracesqui came in to pitch a scoreless eighth followed by Diaz who worked around a one out hit and a two out walk to pick up his second save.
Losing pitcher for Fargo was RHP Benji Waite (1-2), who went three innings, giving up 10 hits and six runs. Dylan Tice had a three-hit night for Kansas City and Dexter Kjerstad had a pair of hits as well to extend his hitting streak to 13 games. Kansas City is now (15-11) on the year while Fargo-Moorhead drops to (12-14).
The two teams meet up again Saturday night for the second game in a three-game series, where Kansas City will be looking to continue their winning streak. The first pitch is 6:05pm and you can listen to the Voice of the T-Bones Dan Vaughan call the game live on http://mixlr.com/t-bones-baseball/.
Individual tickets, season, group, mini-plans and nightly party suites are on sale now and can be purchased by visiting the Box Office at T-Bones Stadium or 24/7 at www.tbonesbaseball.com. Box office hours are 10:00 am to 4:00 pm Monday – Friday and 10:00 am to 2:00 pm Saturday. For additional information or interview requests, members of the media may contact the T-Bones Media Relations Department at (817) 739-3693. Stay tuned to www.tbonesbaseball.com. and the T-Bones Facebook and Twitter pages for updates throughout the season.