News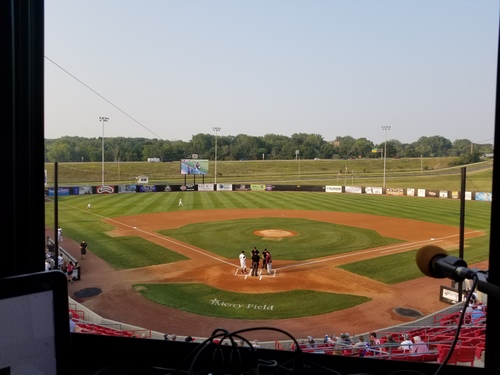 08/10/2018 11:27 PM
-
SIOUX CITY, Iowa—The Kansas City T-Bones (49-28) fought hard but failed to complete the comeback, losing 3-2 in 11 innings against the league's best Sioux City Explorers (58-20). The T-Bones rallied from two down in the seventh to send the game to extra innings, but Jay Baum played hero-ball, hitting an RBI single to end Kansas City's hopes at stealing a game in the South Division.
In the top of the first, the Explorers jumped ahead of Kansas City early, putting together a string of hits to put a run on the board. Luis Durango reached first on an infield single, and Michael Lang raced down the first base line on another infield hit that advanced Durango to second. With one out, Jose Sermo sliced a ball to left field, scoring Durango to put the T-Bones on their heels. The Explorers took a 1-0 lead heading into the bottom of the inning.
Fast forward to the sixth inning when the Explorers offense fired back up with two outs. Sermo drilled a single to right field to put a runner on first. Jay Baum advanced Sermo on a screamer to center field to put two runners aboard. With two runners on, Blake Schmit stepped up to the plate. During his at-bat, Sioux City executed a double steal perfectly, as both Sermo and Baum advanced to second and third base. A throwing error by the
T-Bones catcher Adrian Nieto sent Sermo speeding down the third base line to score an unearned run. After six, the Explorers had a 2-0 advantage on Kansas City.
A key error in the seventh gave the T-Bones life. After struggling to string together hits, Kansas City played like the division title depended on it. Mason Davis started off the inning with a much-needed single to spark the T-Bones offense. Mason Davis was doing it all by stealing second to put Kansas City in scoring position. Todd Cunningham had a nice at-bat and forced a walk to put two runners on. A crucial error by Sioux City short stop Nate Samson allowed Colin Walsh to reach first on a dribbler to load the bases. Noah Perio Jr. did his job for the T-Bones and knocked a ball to center field, scoring Mason and Cunningham to tie the game at two apiece.
After nine exciting innings of baseball, the best two teams in the American Association played free baseball. After a thrilling 11 innings, the Explorers had enough. Durango singled to left field to advance to first. Lang followed Durango with another single to put two runners on with no outs. After an intentional walk to Sermo, the bases were loaded for Baum who delivered a RBI single to left field to score Durango from third to win the game 3-2 over Kansas City.
Wirkin Estevez (0-0) had a solid night, pitching six innings and giving up nine hits and two runs. Only one run was earned. Estevez was credited with the no decision. Nick Lee (1-1) was credited with the loss, pitching 1.1 innings and allowing four hits and one earned run.
Parker Markel (1-1) pitched well for Sioux City in relief, pitching two scoreless innings, only allowing one hit. He was credited as the winning pitcher.
With the loss, Kansas City falls to 49-28 on the season and a whopping 8.5 games behind Sioux City. The T-Bones now set their sights on maintaining the second seed in the South Division over the Wichita Wingnuts (48-29) to secure a playoff berth. Sioux City improves to a league best 58-20 on the season and are running away with the South Division. They have won two straight games and look to extend their division lead against the T-Bones Saturday August 11 at 7:05 pm. The game be heard on the T-Bones Broadcast Network.
Season, group tickets, mini-plans and nightly party suites are on sale now and can be purchased by visiting the Box Office at T-Bones Stadium. Call the Box Office at 913-328-5618 or purchase and print at www.tbonesbaseball.com. Box office hours are 10:00 am to 4:00 pm Monday – Friday and 10:00 am to 2:00 pm Saturday.
For additional information or interview requests, members of the media may contact the T-Bones Media Relations Department at (817) 739-3693. Stay tuned to www.tbonesbaseball.com. and the T-Bones Facebook and Twitter pages for updates throughout the season.
LISTEN TO ALL T-BONES GAME LIVE ON THE T-BONES BROADCAST NETWORK
--T-Bones--