News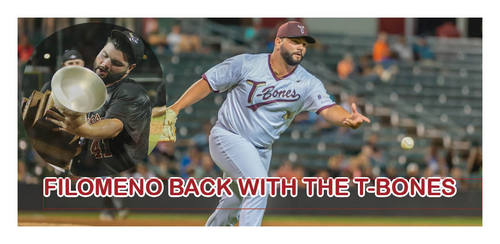 03/04/2019 5:58 PM
-
KANSAS CITY, Kan.– The Kansas City T-Bones announced today that the club has signed left-handed reliever Joe Filomeno for the 2019 season.
Joe Filomeno was a strong bullpen force for Kansas City in 2018, pitching 41.1 innings in 35 games for the T-Bones with a 4-2 record, a 1.30 ERA and 48 strikeouts. The lefty joined the T-Bones on June 2nd after being released by the Frisco RoughRiders the AA affiliate of the Texas Rangers. He went 0-1 with a 9.82 ERA in seven innings with the AA Texas League team. He spent 2017 with the same ball club and posted an 0-3 record with an 8.10 ERA in 29 games. In 2016, he played 30 games for the RoughRiders with a 2.20 ERA in 41 innings.
Filomeno figured heavily in the post-season for KC last season. He picked up a hold in game two of the American Association Division Series on September 5th at T-Bones Stadium. With runners at second and third and the T-Bones clinging to a 4-2 lead in the top of the seventh, Filomeno struck out Dylan Kelly in a 2-2 pitch to end a Sioux City threat in an eventual 4-2 series, tying win for KC. He would work one inning with two strike out that might.
Two nights later he would earn the relief win, giving the T-Bones a 2-1 series upper hand on the road in Iowa. He would work 1.1 innings with a pair of strike outs in the 5-2 win over the X's. He again picked up a clean inning in the 4-2 series, clinching the win with a strike out in game five, earning his second hold of the series. Overall in the post season, he would go 1-0 with an 8.30 ERA in four games, working 4.1 innings with five strike outs.
From July 4th through August 23rd, Filomeno had an 18-game appearance stretch over 23 innings where he did not allow a run of any kind. He added 26 strike outs to his stat line during that run while picking up three wins. After getting off to a strong start, including four straight scoreless outings, he became the third T-Bone player in the month of July to be sold to an MLB organization when Seattle purchased his contract on July 13th. He would return to the T-Bones July 18th.
Filomeno started 2016 with the Advanced-A High Desert Mavericks. While there he boasted a 0.57 ERA and a 1-0 record in 11 games. He played all of the 2015 season with the Hickory Crawdads of the South Atlantic League. He finished his time in Hickory with a 3-2 record while producing a 2.72 ERA in 56 ⅓ innings played. Filomeno was drafted by the Texas Rangers in the 2014 MLB draft. He played his rookie ball with the AZL Rangers going 2-0 in nine innings.
Full and half-season 2019 ticket packages, as well as mini plans, are on sale now online or by calling (913) 328-5618 or by visiting the Saint Luke's Health System Box Office between the hours of 10 a.m. - 4 p.m. Monday through Friday. Group ticket sales are also on sale now. Wyandotte County residents will be able to purchase individual game tickets beginning Tuesday, March 19th at 10:00 am and the General Public on Thursday, March 21st. Opening day for the T-Bones is set for Friday May 17th at T-Bones Stadium when the T-Bones host the Fargo-Moorhead Redhawks to open the 2019 season.
For additional information or interview requests, members of the media may contact the T-Bones Media Relations Department at (817) 739-3693. Stay tuned to www.tbonesbaseball.com. and the T-Bones Facebook and Twitter pages for updates throughout the season.
#FUNWELLDONE#