News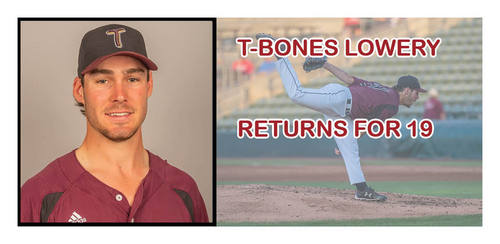 03/05/2019 3:40 PM
-
KANSAS CITY, Kan.– The Kansas City T-Bones announced today that the club has signed right-handed reliever Jackson Lowery for the 2019 season.
Jackson Lowery was signed by the T-Bones on December 5, 2017 prior for the 2018 season. He would pitch in 32 games for Kansas City in 2018, totaling 45.1 innings with 56 strike outs. Lowery pitched one scoreless inning in the post season as the T-Bones won the American Association crown and was 1-0 overall for KC.
Kansas City originally added Lowery to the roster on August 4, 2017 while the team was on their longest road trip of the season. Lowery retired all four of his batters in his debut at Lincoln that night and would go on to have a 2-1 record with a 3.12 ERA in 17.1 relief innings in 2017. He did make one spot start for the club, while adding 25 strike outs in his first season. In his career with the T-Bones, the right-hander has a 3.13 ERA in 63.1 innings, pitching in 47 games for Kansas City. The Arkansas native has 82 strike outs in 63.1 innings in the American Association.
Lowery hails from Little Rock, Arkansas and pitched in college at the University of Arkansas in the SEC. Lowery signed a free agent contract with the Toronto Blue Jays after his senior season with the Razorbacks. In 2015, he made three stops in the Blue Jays system and spent last winter with the Canberra Cavalry of the Australian Baseball League. For his career, the former Razorback is 7-4 with a 3.58 ERA in 130.2 innings with 159 strike outs.
Full and half-season 2019 ticket packages, as well as mini plans, are on sale now online, by calling (913) 328-5618 or by visiting the Saint Luke's Health System Box Office between the hours of 10 a.m. - 4 p.m. Monday through Friday. Group ticket sales are also on sale now. Wyandotte County residents will be able to purchase individual game tickets beginning Tuesday, March 19th at 10:00 am and the General Public on Thursday, March 21st. Opening day for the T-Bones is set for Friday May 17th at T-Bones Stadium when the T-Bones host the Fargo-Moorhead Redhawks to open the 2019 season.
For additional information or interview requests, members of the media may contact the T-Bones Media Relations Department at (817) 739-3693. Stay tuned to www.tbonesbaseball.com. and the T-Bones Facebook and Twitter pages for updates throughout the season.
#FUNWELLDONE#