News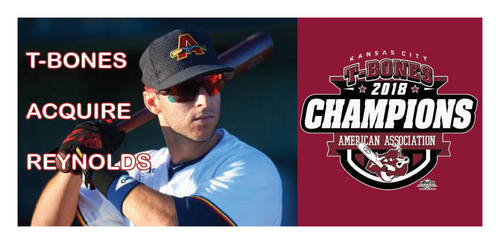 03/06/2019 5:07 PM
-
KANSAS CITY, Kan.– The Kansas City T-Bones announced today that the club has traded right-handed reliever Scott Kuzminsky to Sussex County of the Can-Am League for infielder Mikey Reynolds.
Mikey Reynolds was the fifth-round draft pick by the Atlanta Braves in the 2013 MLB First-Year Player draft out of Texas A&M University. Reynolds spent last season with Sussex County where he led the team at the plate with a .335 average, driving in 52 runs in 98 games for the Miners. He hit one home run and had 28 team-leading doubles along with 45 stolen bases on the season. He would finish second in stolen bases for the club and fifth at the plate in the league with his .335 clip. Reynolds was tied for second in the circuit in doubles and hits with 119, and his 78 runs scored would led the league in 2018.
Reynolds would go 10-for-36 with two doubles and two RBIs as the Miners won the Can-Am League Championship. He would be named to the Can-Am All-Star Team at the end of his only season in the league. Following the US summer, Reynolds would spend the winter in the Australian summer, playing for the Adelaide Bite and hitting a team-leading .395 in 22 winter league games with two home runs and 14 RBIs.
Reynolds would retire from baseball after the 2016 season with the St. Louis Cardinals organization but would make a short comeback in 2017. He would play three games for Fargo-Moorhead in July of 2017 going 0-for-14 before being released. In 2016 with the Cardinals organization, he would play in 18 games at High A Palm Beach, hitting .186 with seven RBIs and going 1-for-8 in three games at Low A Springfield in the Midwest League.
In 2015 he found a home with York of the Atlantic League where he hit .280 in 73 games with one homer and 17 RBIs. His 2014 season would be cut short to 18 games because of a 50 game MLB suspension. In 18 games at Low A Rome in the South Atlantic League, Reynolds hit .188. In Reynolds's first pro season in 2013, he would hit .309 in 44 games at rookie level Danville in the Appalachian League.
Reynolds can play first, second and third bases, short stop, and in the outfield. Last season he played 61 games at second base for Sussex County, but he showed his versatility by playing all 22 games in Australia at short stop. He saw 13 starts at third and another eight at short, and he played a game each in the outfield and at first base for the Miners in the Can-Am League last season. During his five-year career, he has played 165 games at second base and 68 games at short stop
As a Junior at Texas A&M, he earned second team All-Big 12 honors, playing in 58 games for the Aggies and posting a .306 average with 23 runs knocked in, all at second base. He would lead the team in walks with 31, and he was tied for the team lead with 21 stolen bases. Reynolds played one season at Paradise Valley Community College in Phoenix in 2011 where he hit .389 with 28 doubles and 29 stolen bases at a sophomore. He added first team all-region and first team all-conference awards on the season while at Paradise Valley. He was drafted in the 30th round of the 2011 MLB First-Year Player Draft by the Baltimore Orioles but did not sign.
As a freshman in 2010, Reynolds played at St. Mary's College of California. He played in 44 games, drawing 43 and batting .256. Reynolds played his high school ball at Mountain Ridge High School in Glendale, Arizona. He was a member of the All-Arizona Team and garnered first team all-region honors as both a junior and senior. He hit.410 as a sophomore in 2007, .390 as a junior in 2008 and finished his high school career with a .513 average in his final season in 2009.
Scott Kuzminsky was acquired by the T-Bones on October 5, 2018 from the Wichita Wingnuts to complete an earlier trade. The right-hander began 2018 with the Seattle Mariners organization, going 1-1 with a 3.86 ERA in 28 innings at Arkansas in the Texas League, and he tossed another 3.1 innings at Modesto in the California League. With the Wingnuts, the native of Washington State struck out 23 in 22 innings and posted a 2.05 ERA.
The busy week also includes the announced retirements of RHP Hunter Adkins, RHP Barrett Astin and the release of RHP Sam Street. All three were members of the 2018 T-Bones American Association Championship club. Hunter Adkins would go 6-8 last season for KC with a 4.49 ERA in 108.1 innings. Barrett Astin also would serve as the team's pitching coach for the second half of last season and would finish strong for KC. Astin a former Big Leaguer with the Cincinnati Reds would go 2-0 in the playoffs in two starts over 11 innings with a 1.63 ERA, giving up just two earned runs. He won his last three starts and led the team with 10 wins on the season. He would go 10-3 with a 5.80 ERA in 102.1 regular season innings with 69 strike outs. Sam Street was 0-1 in relief with a 4.03 ERA in 21.1 innings with one save in 2018. A member of the Australian National Team, Sam would have his season cut short owing to arm fatigue, and he returned "down under" to prepare for a run at the 2020 Team Australia Olympic bid.
Full and half-season 2019 ticket packages, as well as mini plans, are on sale now online, by calling (913) 328-5618 or by visiting the Saint Luke's Health System Box Office between the hours of 10 a.m. - 4 p.m. Monday through Friday. Group ticket sales are also on sale now. Wyandotte County residents will be able to purchase individual game tickets beginning Tuesday, March 19th at 10:00 am and the General Public on Thursday, March 21st. Opening day for the T-Bones is set for Friday May 17th at T-Bones Stadium when the T-Bones host the Fargo-Moorhead Redhawks to open the 2019 season.
For additional information or interview requests, members of the media may contact the T-Bones Media Relations Department at (817) 739-3693. Stay tuned to www.tbonesbaseball.com. and the T-Bones Facebook and Twitter pages for updates throughout the season.
#FUNWELLDONE#