News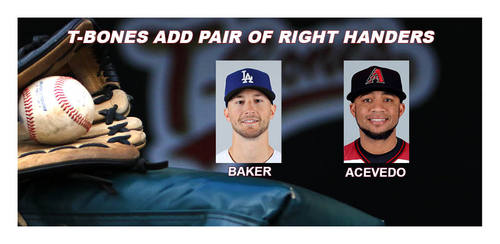 03/19/2019 9:27 PM
-
KANSAS CITY, Kan.– The Kansas City T-Bones announced today that the club has acquired right-handed pitchers Andury Acevedo and Dylan Baker from the Sugar Land Skeeters (Atlantic League) for future considerations, and they have agreed to terms with Baker for a 2019 contract.
Dylan Baker comes to KCK after one season with the Los Angeles Dodgers organization where he went 3-6 in 34 games all in relief with a 6.08 ERA over 37 innings and notched eight saves in 2018. Primarily a starter throughout his career, it was his first season to notch a save as a pitcher. Prior to his one season with the Dodgers system, he spent 2012 to 2017 with the Cleveland Indians organization.
Baker was selected in the fifth round of the 2012 First-Year Player Draft by the Cleveland Indians and made his debut in the rookie Arizona League that summer, going 0-1 with a 4.13 ERA in 24 innings, making eight starts in his eight games. He added 30 strike outs his first season. In 2013 at Lake County in the Midwest League, Baker went 7-6 in 27 games, making 25 starts over a 143.2 career-high innings. He would strike out 117 on the season at low A. Baker logged a team-best 143.2 innings, finishing with team-highs in victories (7) and strikeouts (117) and ranked among Midwest League leaders in starts (4th, 25), innings (4th, 143.2), strikeouts (4th, 117) and ERA (13th, 3.63). Baker also ranked fifth in ERA among all Cleveland minor leaguers that season and earned the Indians Minor League Player of the Week for June 19th – 25th that season.
The 2014 season began with promise for Baker at high A Carolina. He would work six innings of no-hit ball with four strike outs, but he would miss a majority of the season because of a broken right ankle, suffered after making his first start of the season. He would be activated from the DL on July 21 and slowly work his way back. Baker would go to the rookie level Arizona league for three games where he posted a 1.59 ERA in 5.2 innings, and then Baker headed back to high A in the Carolina League to close out the season. He would finish the year going at least five innings in his last four starts, including back-to-back quality starts where he held the opposition to four runs over 12 innings. In his final 19 innings of the season, Baker allowed just five earned runs. He would go 3-3 overall with the Mudcats with a 4.05 ERA in nine starts in 46.2 innings.
Baker once again had to fight off the injury bug in 2015. He was limited to just one start, coming April 9 at Potomac where he worked five hitless innings while walking one and fanning nine. Baker was diagnosed with an elbow strain after the start and was placed on the DL, eventually undergoing right elbow reconstruction on May 20. Baker then underwent a clean-up procedure (scar tissue) on January 8 that delayed the start of his 2016 season. He would be rewarded despite the setbacks and was added to the 40-man roster on November 20 of 2015 by Cleveland.
The 2016 was a "wash" for Baker owing to the 2015 surgeries. He was limited in his return to the mound as he experienced discomfort at each step along his rehabilitation efforts and was forced to undergo and additional arthroscopic procedure on August 16 to address posterior elbow and forearm soreness. Baker returned in 2017 and started the season on the DL because of the previous two seasons of setbacks. He went a combined 1-1 with a 2.70 ERA in 17 games with two starts with AA Akron in the Eastern League and Rookie level Arizona. Baker struck out 16 while giving up just one walk. He pitched in 13 games at AA, going 0-1 with a 2.84 ERA, and he struck out 10 against one walk and pitched in another four games (two starts) for Rookie-level Arizona Indians while in rehab with a back injury from July 23 to August 14 . The Indians recalled Baker on September 1 and shut him down for the rest of the season, placing him on the 60-day disabled list with a right shoulder strain and ending his season.
Baker, a native of Alaska, graduated from Douglas High School, in Juneau, Alaska, before attending Tacoma Community College. He then transferred to Western Nevada College where he became the highest draft selection for a player out of Western Nevada in 2012. He resides in Juneau, Alaska.
Andury Acevedo is a former infielder who spent the first four years of his career with the Pittsburgh Pirates organization from 2007-2010. He would sign with the New York Yankees and convert to a pitcher in 2012. It is from there is career took off as he climbed the Yankees system, reaching AAA. He then would spend parts of two seasons with the Chicago Cubs, earning a spot on the 40-man roster, and a part of a season with the Arizona Diamondbacks before moving to independent baseball this off season.
In his first season on the mound in 2012, Acevedo worked in 4.2 innings of relief at rookie level Gulf Coast for the Yankees, giving up 10 earned runs but striking out five to go along with five walks. In 2013 he would pitch in 17 games in relief for the Staten Island Yankees in the New York-Penn League, striking out 21 in 20 innings. He would return to Staten Island in 2014 and pitch in 23 games all in relief with a save, posting a 3.90 ERA in 27.2 inning with 39 strike outs. Acevedo would see action in nine games at low A Charleston in the South Atlantic League, tossing 12.1 innings in relief with 12 strike outs and a 4.38 ERA.
Acevedo started 2015 at high A Tampa in the Florida State League and would earn a move up the ladder to AA on April 16, 2015, but he moved back down to high A on May 9th. That move would give him time to earn a spot on the Florida State League All-Star Team before a return to AA in the Eastern League at Trenton on June 16. In August, Acevedo was promoted to AAA Scranton/Wilkes-Barre. At Tampa he put up an impressive 1.40 ERA in 12 relief appearances over 19.1 innings with one save. He punched out 20 and gave up just one walk and was 1-0 for the Yankees. At AA Trenton in 18 games covering 28 relief innings, the right hander struck out 18, going 1-2 with a save and a 3.54 ERA. Acevedo closed out the season in the International League with a 1-2 record at AAA in 11.2 innings of relief over 10 games with a 2.31 ERA and 11 strikeouts. Following the season, he elected free agency and would sign with the Chicago Cubs organization.
In 2016 Acevedo signed a major league contract with the Chicago Cubs during the "hot stove" winter and earned a spot on the 40-man roster. He was limited to just five innings and six relief appearances with Tennessee in the Cubs Southern League AA club, but he missed most of the year because of a torn left ACL that he hurt in May. He would go on to miss the rest of the season and be outrighted off the 40-man roster to AAA Iowa in the off season.
In 2017 the Cubs re-signed Acevedo to a minor league contract, and he would begin the season on the DL for the AA Tennessee club and stay behind in extended spring to work his way back from the previous season's injury. He would return to the active roster on April 24 and work 15 scoreless innings of relief over 12 games with three saves and a 1-0 record to earn a move up the ladder to AAA Iowa on the 5th of June. At AAA, Acevedo made eight relief appearances, giving up five earned runs in 12 innings with seven strike outs and putting up a 2-0 record with a 3.75 ERA. The Cubs released Acevedo on July 9, but he was signed a month later on August 9 by Arizona and assigned to AA Jackson in the Southern League.
Acevedo went 1-0 with a 4.32 ERA in nine relief outing over 8.1 innings with one save. He would earn another promotion to AAA Reno in the Pacific Coast League, working in only one game late in the season. Acevedo was a non-drafted free agent our of Santa Domingo in the Dominican Republic.
Full and half-season 2019 ticket packages, as well as mini plans, are on sale now online, by calling (913) 328-5618 or by visiting the Saint Luke's Box Office between the hours of 10 a.m. - 4 p.m. Monday through Friday. Group ticket sales are also on sale now. The General Public will be able to purchase individual game tickets beginning March 21st. Opening day for the T-Bones is set for Friday May 17th at T-Bones Stadium when the T-Bones host the Fargo-Moorhead Redhawks to open the 2019 season. For additional information or interview requests, members of the media may contact the T-Bones Media Relations Department at (817) 739-3693. Stay tuned to www.tbonesbaseball.com. and the T-Bones Facebook and Twitter pages for updates throughout the season.
#FUNWELLDONE#