News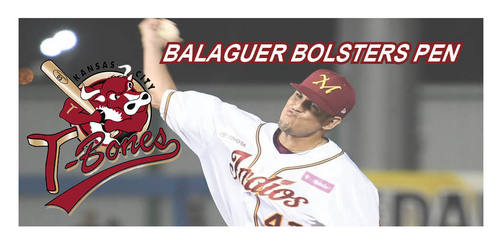 03/27/2019 11:23 PM
-
KANSAS CITY, Kan.– The Kansas City T-Bones announced today that the club has signed right-handed pitcher Jesus Balaguer for the 2019 season.
Jesus Balaguer comes to KCK after a short stint with the Arizona Diamondbacks organization. Arizona purchased the contract of the Cuban native after a strong second half of the season with the Washington Wild Things in the Frontier League. In 10 regular season games, Balaguer fanned 34 batters in 18 innings of work while scattering 12 hits and seven runs with 11 walks. Washington would qualify for the Frontier League playoffs and make it all the way to the league championship series, eventually falling short to Sussex County.
In the post season, he would pitch in seven games, including in all five of the Frontier League Championship Series games. Balaguer tossed 7.2 playoff innings of scoreless relief, giving up only two hits and striking out 13. Balaguer joined Washington on August 7, 2018 after parts of two seasons with the Houston Astros organization.
The 25-year old pitched at high A for the Bueis Creek Astros of the Carolina League to start 2018. He posted a 3-4 record with a 5.13 RA in 23 games before his release. Balaguer would pitch in 33.1 innings, allowing 20 runs (19 earned) on 20 hits, and striking out 43. In 2017 he split time with rookie-level Greeneville in the Appalachian League, Tri-City in the short season New York-Penn League and low A Quad Cities of the Midwest League. He pitched seven scoreless innings with Greeneville, striking out 14 before the move up to Tri-City. In the New York-Penn League, he pitched 7.1 innings and allowed three hits and one run with 10 strikeouts and three walks. In his final stop in the Midwest League, Balaguer threw 18.2 innings of relief with a 4-1 record adding 29 K's.
Balaguer spent three seasons playing in the Cuban National Series (CNS) in his native Cuba. He would appear in a career-high 36 games in 2014-2015 with a 3.60 ERA in 45 innings (also a career high), all in relief for the Industriales. The righty would add 37 strike outs as he also won a career high six games against one loss. In 2013-2014 he worked in only 5.1 innings of relief in five games with a 1.69 ERA. Balaguer began his pro career in Cuba with Artemisa in 2012-2013. He would post an 0-2 record in 10 games with 18.1 innings out of the pen with 11 strike outs and a 4.91 ERA. In three seasons as a professional in Cuba, Balaguer went 6-3 with a 3.36 ERA in 68.2 innings, punching out 49 batters, all in relief.
This past off-season, Balaguer had a solid winter league campaign, working 14.1 innings in relief and allowing just two earned runs with 13 strike outs for Mayaguez in Puerto Rico. Overall, in five professional seasons he has pitched 167.1 innings with 192 strike outs and has posted a 16-10 record with five saves. Balaguer has 111 appearances on his resume, all coming out of the pen.
Full and half-season 2019 ticket packages, as well as mini plans, are on sale now online, by calling (913) 328-5618 or by visiting the Saint Luke's Box Office between the hours of 10 a.m. - 4 p.m. Monday through Friday. Group ticket sales are also on sale now. Opening day for the T-Bones is set for Friday May 17th at T-Bones Stadium when the T-Bones host the Fargo-Moorhead RedHawks to open the 2019 season.
For additional information or interview requests, members of the media may contact the T-Bones Media Relations Department at (817) 739-3693. Stay tuned to www.tbonesbaseball.com. and the T-Bones Facebook and Twitter pages for updates throughout the season.