News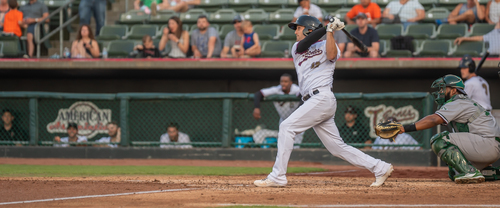 06/01/2019 8:53 PM
-
By Sophie Darting and Gabby Albertson
KANSAS CITY, Kan - The Kansas City T-Bones continued their four-game skid as they were defeated by the Gary South Shore RailCats, 3-1, on Saturday night during the second game of the three game series.
Both teams' bats were silent through the first three innings, locked in a pitcher's duel, but it was Gary SouthShore (8-6) that jumped on Kansas City's starting pitcher Dylan Baker (1-1) first.
After a double steal and a costly error by the T-Bones (7-7), the RailCats got on the board first in the top of the fourth, 1-0.
Gary SouthShore increased their lead, 2-0, in the top of the fifth after Andy DeJesus came around to score from second on a single.
In his 2019 T-Bones debut, Daniel Nava lined a single up the middle to lead off the bottom of the fifth, but he was quickly erased from the base path on a double play.
The RailCats upped their lead to 3-0, with a sacrifice fly to right field in the top of the sixth after Tommy Collier came on in relief of Baker.
The T-Bones made some noise in the bottom of the ninth when Carlos Franco knocked a double into left field, and then Casey Gillespie slapped a single up the middle to bring the tying run to the play with one out. Nava drove in Franco with a sacrifice fly to make it, 3-1, in favor of the RailCats in the bottom of the frame.
With a runner on second and two outs, the T-Bones were unable to tie the ball game, dropping both the game and the series, to the RailCats.
The T-Bones look to salvage the series against the RailCats on Sunday, June 2, at 1:05 p.m.