News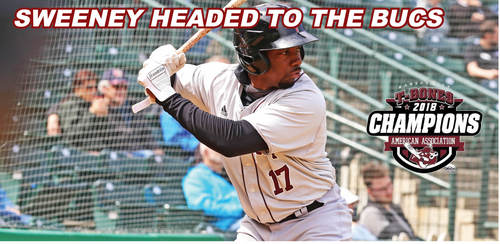 06/12/2019 4:27 PM
-
Cleburne, Texas - The Kansas City T-Bones announced today that the Pittsburgh Pirates have purchased the contract of Infielder Darnell Sweeney prior to tonight's game in Cleburne. Sweeney becomes the 46th T-Bone to have his contract purchased since the team moved to Kansas City in 2003 and the fourth this season.
Darnell Sweeney was drafted in the 13th round by the Los Angeles Dodgers in 2012 and was signed by the T-Bones on February 12, 2019. The switch-hitting Sweeney leaves KCK fourth in the league in walks with 17 and hitting at a .288 clip for the T-Bones. Sweeney leads the T-Bones with four home runs and has driven in nine runs so far this season. His six stolen bases also lead the club and he has proven versatile by playing centerfield and shortstop for Kansas City.
In 2018, Sweeney spent the majority of the season with the AAA Buffalo Bison in the International League where he hit .236 with 10 home runs and 37 RBIs after signing a minor league contract on April 3rd. He had his contract purchased by the Toronto Blue Jays on June 29, 2018 but was optioned back to AAA on July 2nd. He was recalled on July 31st, but was then designated for assignment on August 2nd. After clearing waivers, he was outrighted to Buffalo two days later and then was placed on the temporary inactive list from August 9th – 13th. In his two Big League stints, he would go 0-for-2 but work a pair of walks in two games.
The Cincinnati Reds invited Sweeney to Spring Training in 2018 as a non-roster invitee, but he was released from AAA Louisville before the season started. The 2017 season, the Florida native would start the season at AAA Oklahoma City with the Los Angeles Dodgers organization but would see his services traded to the Reds on May 28th, 2017. In 38 games at OKC he would hit .227 with four home runs and 15 RBIs and steal seven bases (out of eight attempts) in the Pacific Coast League. Back in the International League with the Louisville Bats, Sweeney hit .281 in 81 games with seven long balls and 29 RBIs and 11 stolen bases. He was third on the club in walks with 35 and third in stolen bases.
In 2016 Sweeney spent the entire year with the Lehigh Valley Iron Pigs in the International League the AAA club of the Philadelphia Phillies. In 118 games he hit .233 with six home runs and 35 RBIs. The Phillies would ship Sweeney and Darin Ruf back to the Dodgers in exchange for Howie Kendrick on November 11, 2016, following the 2016 season.
The 2015 season would be eventful for Sweeney. He started the season with the Dodgers organization, playing in 116 games at AAA Oklahoma City. He hit .271 with nine home runs and drove in 49 runs. Sweeney would lead the club in walks with 42, and his 32 stolen bases lead the team and placed him third in the PCL in that category.
Although his season was just beginning with the Dodgers system, Los Angeles traded Sweeney to the Philadelphia Phillies, along with RHP John Richy, for second baseman Chase Utley and cash on August 19th, 2015. The Phillies would select his contract a day later and send Sweeney to the Big Leagues. He would make his debut on that night as a pinch runner in a 9-7 Phillies loss at Miami. His first Major League hit would come two days later on August 22nd as a pinch hitter, when he took the Marlins Justin Nicolino deep in the 8th to cut a 2-0 Miami lead to 2-1. The Phillies would go on to win 4-2.
Following his selection by the Dodgers, Sweeney began his climb up the organizational ladder, reaching AAA in 2015. In the AA Southern League Sweeney played in 132 games for the Chattanooga Lookouts with 14 home runs and 57 RBIs and carried a .288 clip for the season. He would steal 15 bases to lead the club and finish third in RBIs. His .387 on-base percentage was tops on the club ahead of future breakout star Cory Seager, who was second with a .381 mark. Sweeney scored a team and league-leading 88 runs as a Lookout in 2014 and was selected to the mid-season All-Star Team in the Southern League.
In 2013 Sweeney would spend the entire season at High A Rancho Cucamonga in the California League. He would steal 48 bases and drive in 75 runs with 11 homers, carrying a .275 average on the season. His 48 stolen bases lead the Quakes and placed him third in the California League. Following the draft, Sweeney would split time at rookie-level Ogden in the Pioneer League, hitting .303 in 16 games and then adding another 51 games at Low A Great Lakes in the Midwest League where he hit .291 in 51 games and added five home runs. Combined at the two stops, he would swipe 27 bases in 67 games.
Sweeney hails from Broward County (Miami area), Florida and was born in Carver Ranches, Florida. He played at the University of Central Florida in Orlando, where he was drafted after his Junior season. Sweeney started all 61 games at shortstop for the Knights in 2011 and 2012, his final two collegiate seasons. He hit .261 with 35 RBIs and stole 20 bases, a career high in college. Sweeney was named to the Coral Gables All-Regional Team and was a Conference USA Preseason First Teamer.
The T-Bones are in Cleburne to play the second game of a three-game series and on a current seven game road trip. The game can be heard on the T-Bones Broadcast Network with the pre-game beginning at 6:40. T-Bones Live Pre-Game show will air at 6:15 pm on Facebook Live.
Full and half-season 2019 ticket packages as well as mini plans are on sale now online by calling (913) 328-5618 or by visiting the Saint Luke's Box Office between the hours of 10 a.m. - 4 p.m. Monday through Friday. Group ticket sales are also on sale now. The T-Bones return home Monday to open a seven game homestand at T-Bones Stadium with the first pitch of 7:05 pm on Memorial Day.
For additional information or interview requests, members of the media may contact the T-Bones Media Relations Department at (817) 739-3693. Stay tuned to www.tbonesbaseball.com. and the T-Bones Facebook and Twitter pages for updates throughout the season.
Contracts purchased this past year:
5/31/19: RHP Kevin Lenik – contract sold to the Boston Red Sox
5/31/19: LHP Eric Stout – contract sold to the Cincinnati Reds.
5/24/19: RHP Randall Delgado – contract purchased by the New York Yankees.
4/4/19: LHP Tim Hardy - contract purchased by the New York Yankees, 42nd player sold and the 12the since opening day 2018.
1/8/19: RHP Robert Calvano – contract purchased by the San Diego Padres, 41st player sold and 11th since opening day 2018.
11/29/18: OF Keith Curcio – contract purchased by the Boston Red Sox, 40th player sold and 10th since opening day 2018.
11/2/18: LHP Nick Lee-–contract purchased by the Cincinnati Reds, 39th player sold and ninth since opening day 2018.
8/4/18: IF Dylan Tice—contract purchased by New York Mets, 38th player sold.
7/24/18: IF Taylor Featherston—contract purchased by the Cincinnati Reds, 37th player sold.
7/13/18: LHP Joe Filomeno—contract purchased by the Seattle Mariners, 36th player sold.
7/17/18: IF/OF Nick Torres—contract sold to the Texas Rangers, 35th player sold
7/7/18: LHP Carlos Diaz—contract purchased by Cincinnati Reds, 34th. player sold.
7/3/18: LHP James Buckelew—contract purchased by the Chicago Cubs, 33rd player sold.
5/22/18: OF Adam Brett Walker—contract purchased by the Washington National, 32nd player sold.
5/19/18: RHP Cody Martin—contract purchased by the New York Mets, 31st player sold.
LISTEN TO ALL T-BONES GAME LIVE ON THE T-BONES BROADCAST NETWORK
#FUNWELLDONE#