News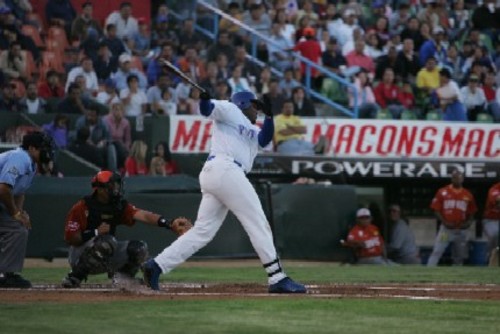 12/13/2005 2:06 PM
- Kansas City T-Bones fans will have the opportunity to see five of their favorites in uniform again next summer. Headlined by beloved slugger Eddie Pearson, the group accounted for a cumulative 46 home runs and 195 runs batted in for the T-Bones in 2005.
Originally a first round pick of the Chicago White Sox in 1992,
Eddie Pearson
will be in his fourth season as a member of the T-Bones. Pearson was named as the Northern League MVP in 2003, when he hit .369 with 14 HR and 72 RBI. The next season, Pearson socked 30 HR; as a measure of the level of respect he garnered in the league, he also set the league's record for intentional walks. Pearson signed with the Mexican League's Potros de Tijuana and finished the 2005 season with the AAA-level club.
For the second half of the season, right field was manned by
Greg Jacobs
. Jacobs finished fourth in the Northern League in hitting, with a robust .348 average, and led the league in sacrificing his body in pursuit of fly balls. Originally picked in the thirteenth round of the 1998 draft as a pitcher by the Anaheim Angels, Jacobs has compiled a .347 career average in 405 games as a position player.
The versatile
Chad Sosebee
was named as the team's Most Valuable Player for 2005. Sosebee had played sparingly as a position player prior to 2005, having been named the Frontier League's Pitcher of the Year in 2004 while winning twelve games for the Richmond Roosters. It was a surprise when "Dirty" Al Gallagher had Sosebee in right field to start the season, but he was very effective there before moving on to third base and finally settling in at shortstop. The native of Temple, GA, batted .267 with 11 HR and 46 RBI in 2005.
Rookie
Brandon Jones
was signed by the T-Bones out of tryouts in May, but made his mark early on. In just his second pro game, Jones hammered two homers and would add eleven more before the end of the season to lead the team with thirteen. His enthusiasm on the field and strong arm at third base led to him being named as the team's Rookie of the Year for 2005.
Eric Vega
proved that the third time was the charm in 2005. The outfielder was cut by the T-Bones in the first two years of their existence, but stuck around last season and was named the Most Popular T-Bone in fan balloting. A native of Kansas City, Kan., Vega batted .255 with three HR and 22 RBI in 65 games, stealing 20 bases in 23 attempts along the way.
"We're ecstatic about the players coming back for 2005," T-Bone Manager "Dirty" Al Gallagher exclaimed. "It's a great mix of young guys with solid experience and some older ones who will be the foundation of our lineup. And I couldn't be happier to have Eddie Pearson back again."