News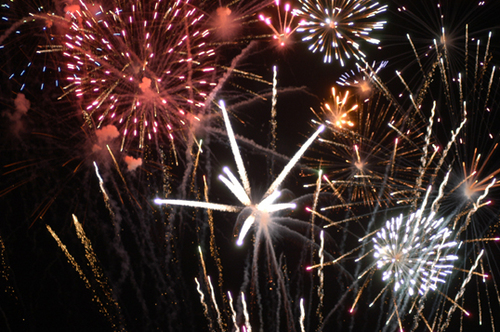 01/12/2007 3:15 PM
- The Kansas City T-Bones kick off their Gimme Five! promotional campaign by announcing a partial list of the 2007 promotional schedule. Also the T-Bones are excited to announce that hot dogs are only a dollar every night all season long. In addition to the popular giveaway items the T-Bones are also adding a new lineup of nightly promotions as well.
Each Friday will feature a different theme night at CommunityAmerica Ballpark. From Star Wars Night to a luau to a celebration of the Fab Four and Sgt. Pepper, the T-Bones theme nights are sure to be a great party! Every fan that shows up to the ballpark dressed to fit the nightly theme gets a half-price berm seat!
Is there anything more American than celebrating the 4th of July with some baseball and fireworks? Come out to CommunityAmerica Ballpark and get your fill of both on this holiday!
2007 marks the return of Redneck Weekend! Trim up your mullet for a game-long celebration of the El Camino headrest, taking place Friday, July 6th, culminating in a best mullet contest. On Saturday, July 7th, give your stomach a night off from hot dogs and beer and throw back some boxed wine, Spam, and spray cheese at the T-Bones' second annual Redneck Wine and Cheese Festival! We're raising money for the American Cancer Society, so come be a part of the fun! Redneck Weekend winds down on Sunday, July 8th with the Redneck Olympics. Come watch some of the finest 'Neck-letes compete in true tests of endurance, strength, and agility in events like the road-kill pick-up, bobbing for pig's feet, and the fish fling!
Real estate prices too steep on Earth? Make sure and swing by CommunityAmerica Ballpark on Saturday, July 21st and try to win an acre of land on the Moon! That's right, the T-Bones are celebrating the 38th anniversary of man landing on the moon (okay, we're a day late) by giving out actual acres of land on the Moon. Get here early to sign-up for the between-innings contests to get in on the fun. Don't forget your moon boots!
What better way for the T-Bones to help raise awareness for the fight against breast cancer than to break out the pink jerseys? On August 4th, the T-Bones will wear pink jerseys to help raise awareness for breast cancer research and detection. These jerseys will be up for auction before, during, and after the game and make a great uniform for the Susan G. Komen Race For The Cure taking place on August 12. Come be a part of a great cause.
Oh, but there's so much more. Make sure to take a look at our calendar for many more great promotions we're getting ready for in the 2007 season!