News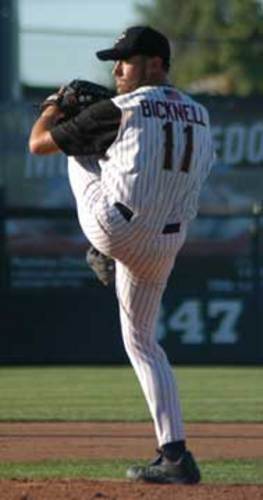 03/22/2007 4:04 PM
- KANSAS CITY, Kan. – The Kansas City T-Bones of the independent Northern League and the St. Joseph Blacksnakes of the independent American Association have agreed to terms that would send veteran pitcher Greg Bicknell, shortstop Chad Sosebee, and utility player James Beever to St. Joseph in exchange for outfielder Scooter Jordan. Jordan was then sent to the St. Paul Saints of the American Association to complete the March 2 trade for Anthony Boughner.
"With Al Gallagher getting the position in St. Joe," said T-Bones manager Andy McCauley, "he was interested in getting a couple of players that he developed. When you make a trade like this, you have to give up good players to get good players. I think this move will benefit both clubs."
Bicknell, 37, has spent the last three seasons with the T-Bones, serving as both a pitcher and the team's pitching coach. With Kansas City, Bicknell posted a 36-21 record with a 3.54 ERA in 466 innings. He set Northern League records for innings pitched (167.1 in 2005) and loses (13 in 2006), and tied the Northern League record for games started (24 in 2006).
Sosebee, 29, joined the T-Bones in 2005 and quickly made the switch to position player after spending the first five seasons of his professional career as a pitcher. Sosebee hit .267 in his first season with the T-Bones, hitting 25 doubles and 11 home runs in 333 at bats. He struggled at the plate in 2006, hitting just .204 with a franchise record 102 strikeouts in 334 at bats.
Beever, 26, appeared in just 15 games with the T-Bones last season, splitting time as an outfielder, catcher, and pitcher.
– Kansas City T-Bones –